Mobile App
Mobile Banking Made Easy
Move funds, pay a bill and find out where you spend your money. Download our App now, for free.
Go MOBILE Today. Manage Your Money 'On-The-Go'
To download the app today please select either link above or go directly to the App Store or Google Play Store.
Account Balances and Transactions
Viewing your Account Balances and recent Transactions is easy. Our Account Balances screen is easy to navigate, and ensures you can be sure to keep track of your spending.
Our Mobile App is available to all members who have registered for Online Access. Register today and avail of all the benefits of online/mobile banking.
Move Funds with Ease
We've made it easy for you to transfer money between your Credit Union Accounts, or to an external bank account.
Upload Documents
You can now easily upload documents using our app. This excellent feature supports a number of document types, and ensures we can deliver a loan decision to you quickly.
Getting started with our Mobile App is easy. Firstly, please ensure you have a valid, and verified, mobile phone number. If your number is not verified, you can verify it by logging into your Online Banking Account.
Once this is completed, search for our App on the App Store or Google Play Store. Then, simply login using your Member Number, Date of Birth and Pin.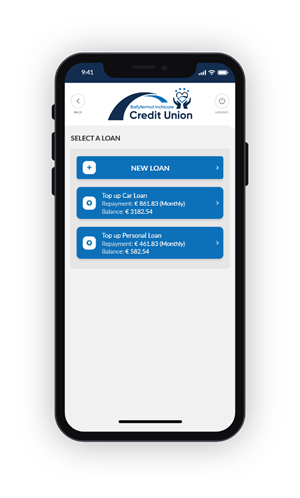 Apply for a loan
Calculate your repayments, complete your application, and upload the required documents anywhere, anytime. It's conveniently available to you 24/7. It's quick, easy & secure.
Terms & Conditions Apply. For details of our terms and conditions please click here.